Sustainability at LIVDEN
At LIVDEN, we are committed to sustainability and doing the right thing for the environment.
From our innovative, eco-friendly tiles to our recycled materials and green manufacturers, we look to create sustainable practices in every part of our business.
Sustainable Tiles
Our commitment to sustainability starts with our product.
A while back, we recognized the need for a sustainable, decorative tile in the market. Inspired by that recognition, we created an eco-friendly tile that carries out our commitment to sustainability. Made from recycled materials and domestically produced, our LIVDEN tile collection is any easy opportunity for people to go green.
Tiles Made From Recycled Materials
Our eco-friendly tiles offer a more sustainable tile alternative because they are made from recycled materials. Utilizing upcycled post-consumer materials allows us to diminish the amount of natural resources we consume and the impact that consumption has on the environment.
Our Terrazzo tiles leverage one of the world's original recycled materials: terrazzo. Polar Ice Terrazzo tiles contain 65-66% post-consumer recycled materials and Chunky Terrazzo feature recyclable glass composites along with a cementitious-based binder.
Our Ivory Porcelain tiles offer a great sustainable alternative to traditional building materials. They are made from a proprietary mix of recycled porcelain and produced in a net consumer waste facility.
Green Manufacturing Partners
We partner with suppliers who share our commitment to the environment. Working with like-minded companies is vital to creating a healthier ecosystem by reducing the amount of natural resources we consume.
Down in Florida, our Polar Ice Terrazzo tiles are manufactured by a member of the U.S. Green Building Council who is devoted to preserving our planet's natural resources.
Over in the Midwest, our Chunky Terrazzo tiles are produced by a manufacturer who is staunchly committed to sustainable manufacturing processes and environmentally responsible building supplies.
Our Ivory Porcelain tiles are manufactured right smack in the middle of the country by another member of the U.S. Green Building Council who dedicates themselves to responsible tile production and net waste consumption. Net waste consumption reduces the stress on overflowing landfills and promotes raw material conservation.    
Made in the USA
We are proud to offer recycled tiles that are 100% made-in-the-USA and domestically produced. LIVDEN works with domestic suppliers and manufacturers to cut down on energy costs associated with transportation. 
Out on the West Coast, our headquarters can be found in San Diego, California. If you travel east, you'll find our Chunky Terrazzo manufacturer in the Midwest and our Ivory Porcelain manufacturer nestled in the center of the American heartland. And on the East Coast, you'll find our Terrazzo manufacturer in Florida.
Working with green manufacturers local to the U.S. allows us to curb our environmental impact. This regional network of manufacturers and suppliers diminishes our energy consumption and emissions, while also creating more domestic labor opportunities. 70-85% of the raw materials extracted by our Polar Ice Terrazzo supplier come from less than 500 miles away from their manufacturing facility. Additionally, between 85-95% of raw materials are extracted from within 500 miles of the manufacturing facilities of our Ivory Porcelain supplier. The volume of finished goods that this supplier ships now exceeds the number of raw materials it extracts from the earth for use in manufacturing. Our Chunky Terrazzo supplier believes in supporting indigenous resources and actively seeks local and regional materials whenever possible to reduce the environmental strain of transportation. 
Sustainable Building & LEED Qualifications
Because our eco-friendly tiles are made from recycled materials and sustainably produced, these materials may qualify for LEED points.
LEED, or Leadership in Energy and Environmental Design, is the most commonly used green building rating system in the world. A LEED certification symbolizes achievement in sustainability and leadership.
Looking into LEED for your next sustainable building project? Learn more about LEED qualifications with the following resource materials:
We also have additional LEED information for our recycled tile materials:
Best of Green Awards 2021: Eco-Décor Winner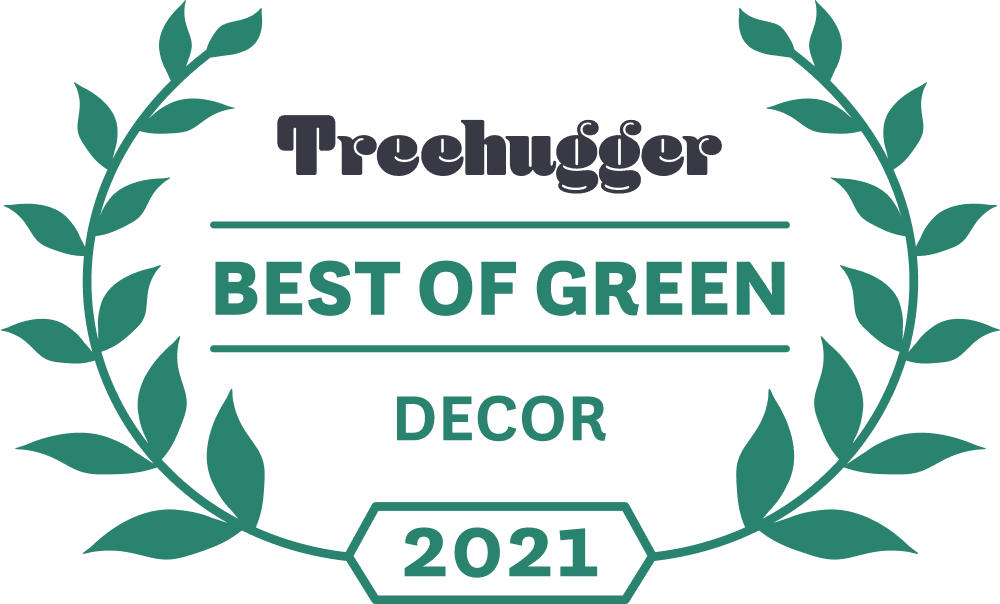 Treehugger, a leading sustainability site, and MyDomaine, a prominent home décor site, partnered together in 2021 to host the Best of Green Awards. Their comprehensive list of 2021 winners highlights the best products and brands paving the way forward for sustainability at home.
We are thrilled to announce that LIVDEN won the Treehugger Best of Green 2021 Award for Green Family! 
Participation in Local Recycling Programs
Recycling is not only a cornerstone of our sustainable tiles it is also a key component of our production process and an integral component of our green manufacturing partners' processes.
At LIVDEN, we recycle all metals, glass, and plastics through the city of San Diego's recycling program. In addition, we print as little as possible by utilizing electronic files. All cardboard generated by our production is used in our shipping department, as well as the cardboard of two adjoining businesses. We also donate all excess tile to Habitat for Humanity to be reused in future interior projects.
Since 2011, our Ivory Porcelain supplier/manufacturer has diverted 12 million pounds of material from landfills. This supplier also works with TOTO USA (the world's largest plumbing products manufacturer) to recycle pre-consumer waste. This supplier now has a proprietary system that processes TOTO's sanitary waste back into powder to be used in manufacturing new tile.
Our Polar Ice Terrazzo supplier/manufacturer has cut their overall waste consumption by 22% through recycling and sustainable building practices. They also deliver the waste from their cutting process to a company that produces mosaic tile to reduce their landfill waste by over 70%.
Our Chunky Terrazzo supplier/manufacturer charts their material usage monthly to assess how they can recycle byproducts and improve efficiency. They avoid sending millions of pounds of waste to landfills each year by reusing excess material that would otherwise be considered waste. Annually, they use over 1 million pounds of recycled glass aggregates in their products.
We recycle all metals, glass, and plastics through the city of San Diego's recycling program. In addition, we print as little as possible by utilizing electronic files.
All cardboard generated by our production is used in our shipping department, as well as the cardboard of two adjoining businesses.
From our materials to our packaging, the environment is our concern through every step of production.
Corporate Social Responsibility at LIVDEN
LIVDEN is all about community. We are constantly reexamining our community relationships and the ways in which we can best serve those communities.
Our commitment to corporate social responsibility starts with our employees.
We offer full benefits and livable wages to every member of our team. We harness the power of a team-based work model to promote shared values of environmental consciousness and shared responsibility.
We are also a female-founded, female-led, and female-run company. We seek to uphold diversity at all levels of our organization and are committed to providing our employees with the resources and opportunities they need for growth. 
Giving Back to the Planet
Did you know that only 3% of total philanthropic giving goes to environmental causes?  1% For the Planet is on a mission to change that. They exemplify the power of collective action as they bring together individuals, businesses, and nonprofit organizations around the world to support people and the planet.
At LIVDEN, we are proud to be a member of 1% For the Planet, which means we commit to donate 1% of our annual profits directly to environmental causes.
When we all work together, 1% adds up.
LIVDEN: Green Tiles with Style
We know that sometimes it can be hard to find beautiful, quality products that are sustainably produced. At LIVDEN, we have solved that problem for you. With our eco-friendly tiles, you can pick a sustainable tile option that highlights your individual style.
Discover all our sustainable tile designs at LIVDEN, or grab your own recycled tile sample today to discover the difference eco-friendly tiles can have on your walls and our environment.